Original design technology of additional value.
We conduct design and development based on lough requirements from customer.
We have an working environment for mutual communication each other devision such as design and assembly so that we can resolve any troubles of the products quickly.
We can take customer's orders that even if it is only repairment or modification of existing machinery.
We design that is diverse industrial machinery and automatic machines.
We are mainly OEM manufacturer that conducts manufacturing line of major companies. We conduct industrial machinery and automation system for a long time and we have experienced various kinds of industrial fields.

Plastic molding
Automobile
Railway
Robotics
Healthcare
Logistics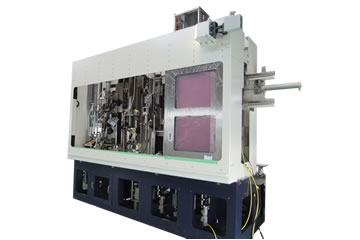 Unique mechanism design of creating industrial machinery.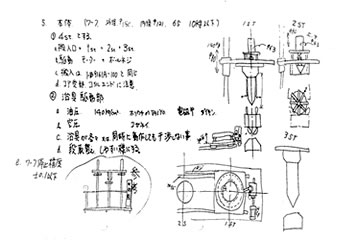 We take manufacturing order from lough design phase with no drawings. Based on the requirement from customer, we design what mechanisms we can apply and how we can build the new product with this mechanisms. With our experience and know-how, we conduct not only the total design based on requirment drawings, but also original design of new mechanisms.
The quality creats from machining process.
Because of high-mix low-volume manufacturing, we always consider how we process efficiently for each indivisual product and accumurate our technologies and know-hows. We keep high quality by sharing mutual technologies and know-hows among each department and realize the best way of processing. We have various material processing technologies for such as iron, stainless, aluminum, and brass. We also have other technlogies such as thermal processing and surface processing.
Ability to decipher drawings.
Baisic princible for mechanical processing is how accurately understand designer's intend and operate as it is. We have well-experienced specialist and they can process from small parts to large matrials. They are pursuing higher accuracy and lower cost as a professional.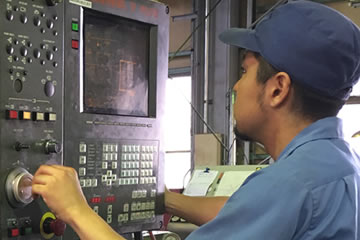 Management that will handle quick delivery.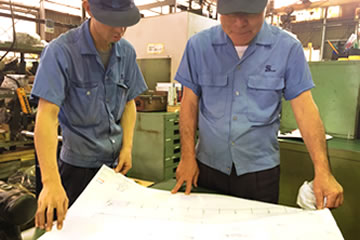 We are dealing with various efforts to shorten delivery time for customer. For the high-ix low-volume manufacturing, we prepare effective manufacturing structure that each process can cooperate mucualy and consolidate if it can. We have a manufacturing control system that can visualize whole processes so that we can meet the delivery time.
Facility that will respond to various needs.
We widely have high performance processing machine such as 5-phase processor, 5-axis processing machining center, and so forth. Our integrated manufacturing from design to assembly consists of those equipment and that why we can realize quick delivery.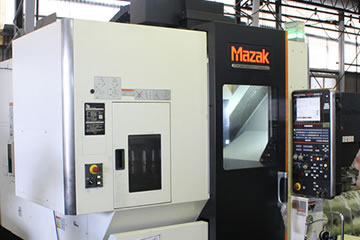 We will deal with single part.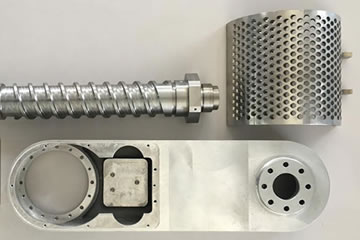 Not only manufacturing industrial machinery, we conduct mechanical processing for single parts as well. We widely support any case such as replacement of parts due to failure of the equipment, revision of equipment including design and processing
The strengths are "manual works" that is not mechanization.
We need 1/1000mm accuracy for centering in assembly process. If there is a trouble even if we process parts as drawing indicates, we manually adjust the parts to get more accucacy for fixing the problem.
Manual work that cannnot be replaced by machinery leads accumuration of our technologies and know-hows.
Hight quality of assembly that will gain trust of customers.
For example, we need 1/1000mm accuracy for centering in assembly process. If there is a trouble even if we process parts as drawing indicates, we manually adjust the parts to get more accucacy for fixing the problem.
We have an enough space to assemble large machines.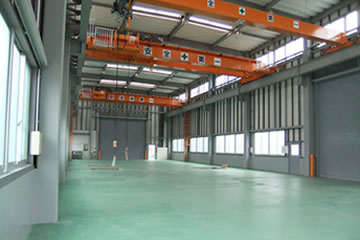 We have two assembly factories whith have 1,000 square meters for total. We install 10-ton crane for heavy materials in each factory so that we can assemble large size machinery.
The technology that deal with repairing and improvement.
We take customer's requests for not only maintenance of our products but also other manufacturer's. We conduct repair, improvement, and overhaul of other manufacturer's products by taking advantage of our technologies and know-hows. When we need a replacement of parts, we can newly produce a parts from design to assembly by ourself, taking advantage of our integrated manufacturing.